Our Tree of Peace & Light
This year, God willing, we intend to gather in person at Marydell Faith & Life Center's Dining Room. We will stream the prayer service either on our Facebook page or on YouTube for those who prefer to stay home. We will let you know. Our hope is that we can gather live and, once more, enjoy one another's presence
Following the ceremony, all names will be placed in our convent and included in our daily 5pm prayer time throughout the entire year
A letter will be sent to the honoree or family of the person memorialized to acknowledge the light you have added to our tree. You will also receive a letter of your donation.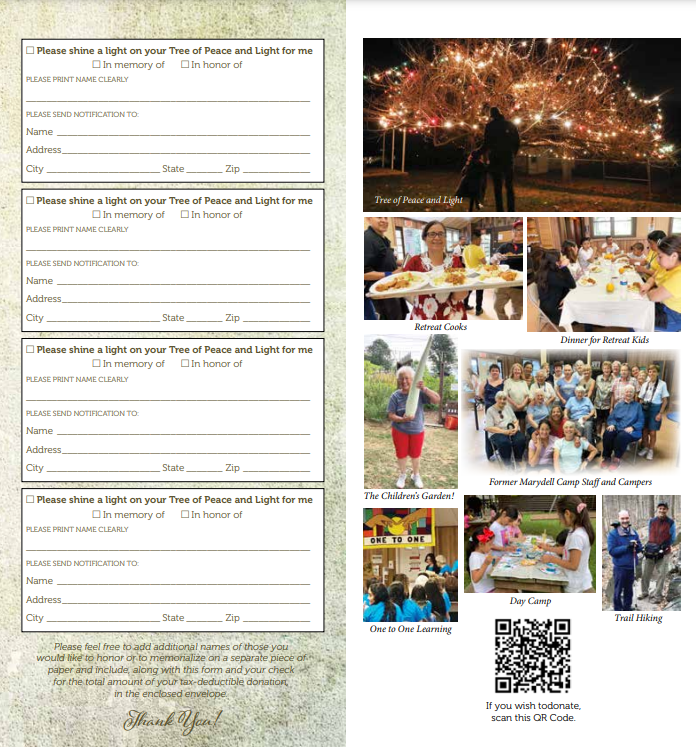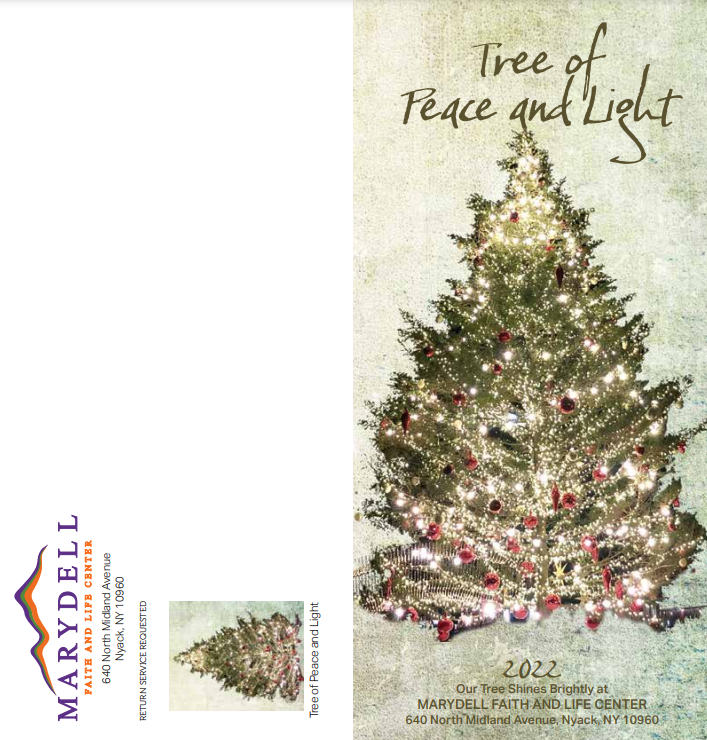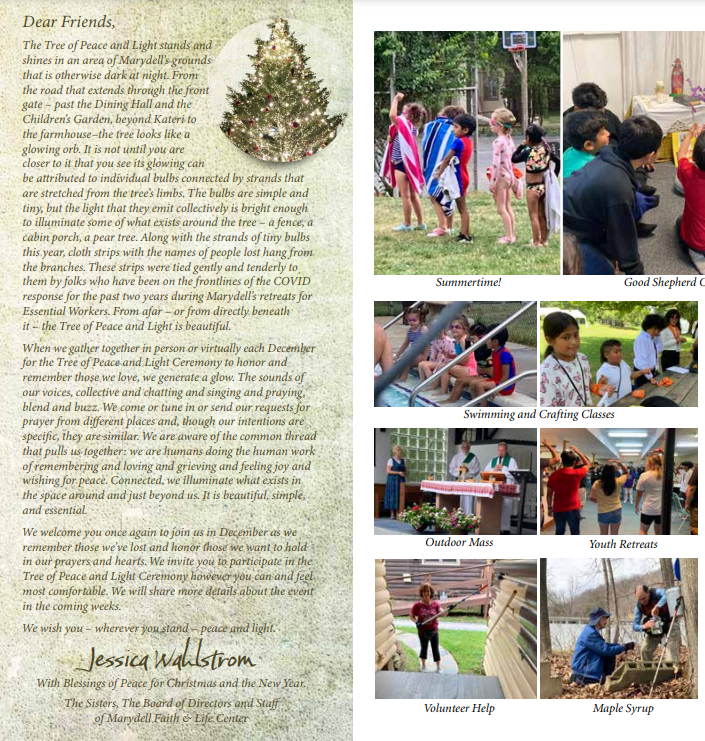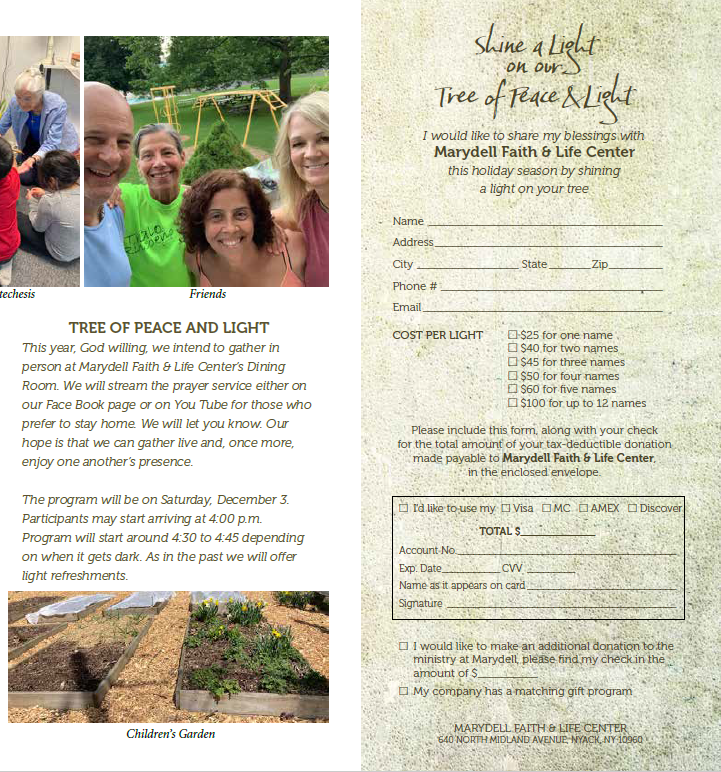 Dear Friends,
The Tree of Peace and Light stands and shines in an area of Marydell's grounds that is otherwise dark at night. From the road that extends through the front gate – past the Dining Hall and the Children's Garden, beyond Kateri to the farmhouse–the tree looks like a glowing orb. It is not until you are closer to it that you see its glowing can be attributed to individual bulbs connected by strands that are stretched from the tree's limbs. The bulbs are simple and tiny, but the light that they emit collectively is bright enough to illuminate some of what exists around the tree – a fence, a cabin porch, a pear tree.
Along with the strands of tiny bulbs this year, cloth strips with the names of people lost hang from the branches. These strips were tied gently and tenderly to them by folks who have been on the frontlines of the COVID response for the past two years during Marydell's retreats for Essential Workers. From afar – or from directly beneath it – the Tree of Peace and Light is beautiful.
When we gather together in person or virtually each December for the Tree of Peace and Light Ceremony to honor and remember those we love, we generate a glow. The sounds of our voices, collective and chatting and singing and praying, blend and buzz. We come or tune in or send our requests for prayer from different places and, though our intentions are specific, they are similar. We are aware of the common thread that pulls us together: we are humans doing the human work of remembering and loving and grieving and feeling joy and wishing for peace. Connected, we illuminate what exists in the space around and just beyond us. It is beautiful, simple, and essential.
We welcome you once again to join us in December as we remember those we've lost and honor those we want to hold in our prayers and hearts. We invite you to participate in the Tree of Peace and Light Ceremony however you can and feel most comfortable. We will share more details about the event in the coming weeks.
We wish you – wherever you stand – peace and light.
Jessica Wahlstrom
With Blessings of Peace for Christmas and the New Year.
The Sisters, The Board of Directors and Staff of Marydell Faith & Life Center
The Tree of Light program will be on Saturday, December 3rd
Participants may start arriving at 4:00 p.m.
Program will start around 4:30 to 4:45 depending on when it gets dark.
As in the past we will offer light refreshment